Let us take the day-to-day shipping tasks off your hands so you can take care of running your business.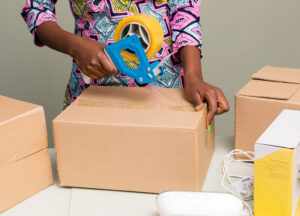 Industrial Services now offers package shipping for general public as well as for companies. Avoid the long lines and hassle of comparing rates between carriers when you ship your eBay, Etsy, or Facebook Marketplace item. We can compare rates and delivery times between FedEx, UPS, and USPS all at once and find you the best rate between the carriers. You can bring your package already packed or let us pack it for you for a small fee. We have elevated loading docks and forklift available for easier load-in/load-out of larger shipments. We also offer limited warehousing and order fulfillment services. (Warehouse space is limited and is filled on a first-come, first served basis.)
Not a business? Not a problem! Mail packages to friends and family quickly and at an affordable rate. Your package will receive the same attention and care that a big business mailing does. Enjoy the same low rates as the big companies do and get the same notification when your package is delivered.
Call us at 423-339-3294 for details or drop your package off at 114 Goldstar Drive SW just off APD-40. Industrial Services is open Monday through Friday from 7:30 am until 3:30 pm. Other times available by appointment.