HOLIDAY HOURS
Industrial Services will be closed on the following dates for the 2022/2023 Holiday Season. We will be open regular hours all other dates.
CLOSED Monday, December 26
CLOSED Monday, January 2
---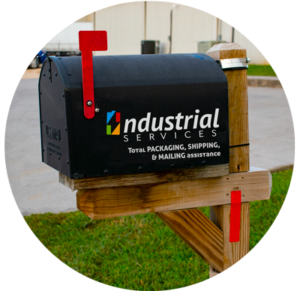 Industrial Services is a locally owned company in Cleveland, TN. We opened our doors in August of 1988 to assemble large boxes for a local company. 30 years later we're still going strong. We do contract manufacturing and we offer a Full Service and Mail Anywhere Certified Mail House.
Our Contract Manufacturing area succeeds where others fail. Our team takes pride in doing the impossible and getting your pieces out the door as quickly as possible. We hand-assemble items that need to be precise, helping your organization cut down on waste materials. Also, we excel at putting together seasonal displays and point-of-sale displays. We have plenty of room and willing hands to help you put together anything you need.
The Mail House is Full Service Certified (FSC) and Mail Anywhere Certified. Industrial Services has a proven track record for speed and accuracy when it comes to getting your mail to the client right the first time. Our experienced staff keeps track of the changing USPS regulations for bulk and mass mailing. We can also help you clean up your database of addresses, deleting duplicates and sending your list through the Post Office's NCOA (National Change of Address) software to update addresses. Don't waste your time trying to guess the most cost-effective way to send your next mailing! Let us find it for you.
Call us at (423) 339-3294 and let us know what we can do for you.